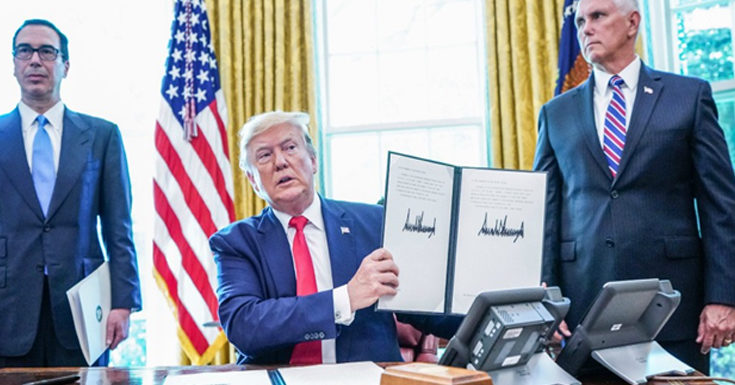 US President Donald Trump said on Monday that he is obtruding new sanctions on Iran, after stating for days that he chose tightening the pressure on a paralyzed Iranian economy over launching an immediate military strike in reply for what US officials have said are aggressive acts by Tehran.
"We will continue to increase pressure on Tehran," Trump said as he resumed work at the Oval Office getting ready to sign an executive order. "Never can Iran have a nuclear weapon"
He further added that the order will prohibit Iranian officials from getting their hands on financial instruments.
US officials have called Iran responsible for two separate sets of explosions on their six oil tankers near the Strait of Hormuz, stating that Iran is trying to put on show its capabilities and surge global oil prices in a counter-attack against the administration's "maximum pressure" campaign.
Iranian officials on the other side denied responsibility. Iranian leaders said that the Trump administration is conduction economic warfare on their country, and analysts stated that the sanctions campaign, which has been devised with no substantial diplomatic outreach, supports the standing of hard-liner officials in Tehran, who vouch for taking retaliatory measures.
The Trump administration has enforced over 1,000 specific sanctions on Iran since the withdrawal from the nuclear agreement in May 2018, as per the State Department.